Freshers Tour 2017
The mild disasters of this tour started as soon as the tour began, with the receptionist at the student union not turning up for work, meaning that we were unable to get any keys for the minibus. After a very friendly cleaner in the building contacted whomever was supposed to be in the reception, a grumpy looking bloke turned up and in the end, we managed to get some keys, albeit a lot later than we originally intended.

After specifying a few times earlier in the day that everybody will need to bring some packed lunch with them to make everything a lot easier, all but one, brought along their lunch. Our master on the other hand was too stubborn to pop into Co-op on his way to campus to get a sandwich and thus, caused unnecessary hassle.

If it wasn't bad enough that a couple of people slept through their alarms, Alex and Egle had thought that they had to meet us an hour later than the agreed time. After going via their flat, we could finally set off to get to the new forest.

After an easy drive along the M27, we found ourselves in the picturesque village of Minstead where some adorable piglets were trotting around as if they owned the place. Somehow, even with the chaos of getting there, we managed to get to the church a few minutes early. The bells here were characterful, resulting in some equally characterful ringing. There was lots of excitement at the gravestone of Arthur Conan Doyle, the author of Sherlock Holmes, however as I am rather uncultured, I was oblivious to this.

As we set off for the second tower of the day, we were met by traffic that was described as 'not bad for a Saturday morning' but was still at a standstill for a good ten minutes. Shortly after starting the ringing, we were told by members of the church that we had to stop ringing immediately due to a concert in the church that was being spoiled by the ringing. Due to some lack of communication, our booking had been forgotten about and we had to cut the ringing short until the concert had finished which prompted an early lunch break while we waited. We finally were given the all clear and could carry on with some more ringing.

We then set off to Brockenhurst for our now much shorter lunch break, where we split up into smaller groups who wanted to their own thing around the forest. A few of us went on a nice walk in the surrounding areas, while others stuffed their faces with creams teas, or just stayed in the minibus to do some work. We all met back at the church for the next lot of ringing on their light set of 8, including a good attempt of some surprise major. These were a joy to ring due to being so light and easy to handle, even if there were a few very odd struck bells.

After ringing at Brockenhurst, we set off down the road into Lymington to ring at a rather contrasting 8, which were a lot heavier. There was some good attempts of ringing here, including our new learners who had never rung at a tower with bells that were this heavy. A few of us decided it would be a hilarious joke to take Jack's Mickey Mouse aerial from his car and take selfies with it and then hiding it from him. For some reason, he did not agree that this was funny.

We then headed further south to ring at Milford-on-Sea, the final tower of the tour. After Rob, our social secretary, came to the realisation that he had 6 past masters attending the tour, we attempted some "masterful" grandsire triples with the current master and vice along with the all the present past masters.

With all of the ringing of the tour finished, we headed to the pub for some dinner and a pint or two before setting off back to Southampton, for a few more pints. I'd like to thank everybody for coming along to this tour, it was a good day and it seemed like everyone had a good time!
Founding Member Birthday Celebration

17/03/17
On Friday March the 17th some members of SUGCR got Derek & Ruth Jackson, founding members and past masters out of retirement to ring some rounds for Ruth's Birthday celebrations.

Link to Bellboard page for the ring.
Spring Tour 2016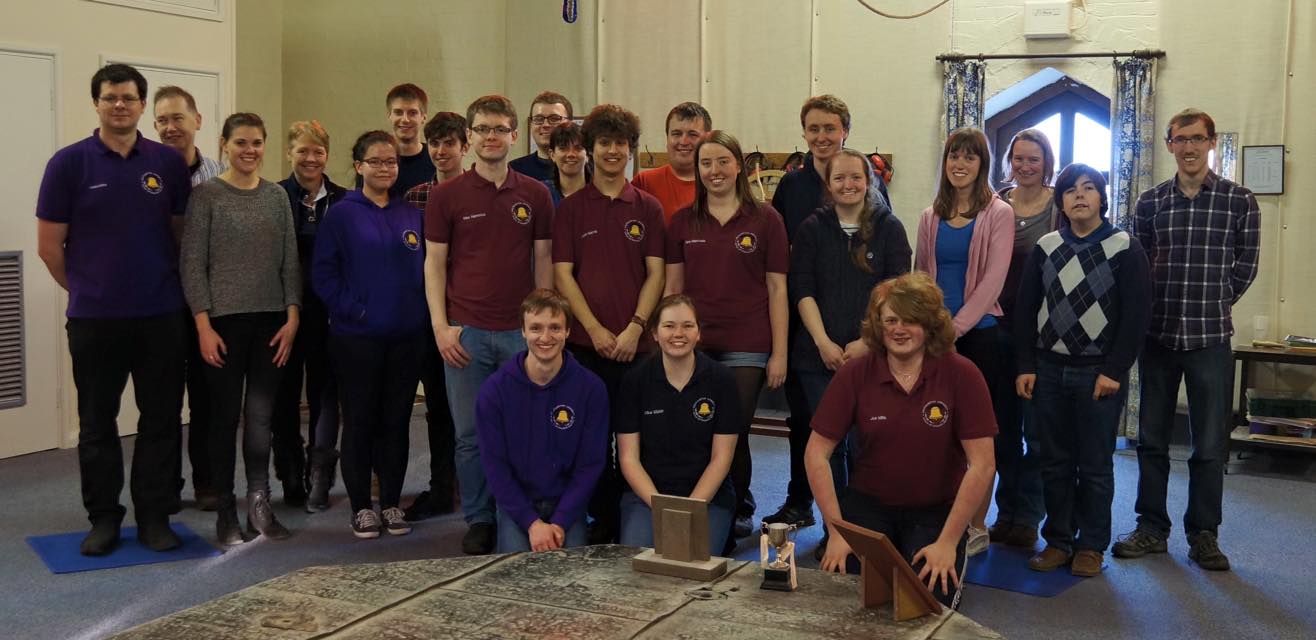 Group picture in Guildford Cathedral at the end of the tour

This year's spring tour took us to the lovely town of Guildford, which meant setting off far too early from Southampton in a minibus. As per usual, we were accompanied by the wonderful sound of S-Club 7 much to the majority's displeasure. On our way to the first tower, a minor detour was taken to the other side of Guildford due to some problems with the navigation. Cue Oliver's panic when Clare took us on a beautiful scenic route, not that anyone else believed she did it deliberately… Luckily we had left enough time that we still got to the tower earlier than needed.

The first tower we rang at was St. Marys, Shalford, which were a lovely set of 8, but the ringing chamber was a little bit too cosy for the amount of us on tour. On a side note, it was wonderful to see so many past members who came along for the day, some recent, and some not so recent. Lots and lots of rounds and call changes were rung fairly successfully, and a rather well struck half course of Cambridge Major.

A few more people joined us in the minibus after the first tower, including Anita, who brought some delicious homemade fudge with her for all of us to try. We knew there was a reason for bringing her along! We then moved onto our second tower of the day which was St. John the Evangelist. This was a ring of 6 in a slightly more spacious tower than before, but were a lot quieter than most of us were used to. But with the door open it was just about loud enough to hear the bells, so a course of Cambridge Minor was successfully attempted, and some Stedman Doubles called by the wonderful Em-Presidente. Clare loved that as she simply made cat's ears about 6 times… Josh still can't quite seem to get the hang of calling call changes up or down, we had many confused ringers after a few minutes.

Our third tower was Holy Trinity, which was right in the town centre. After Clare's panic due to there being no wheel on the second until a few hours before we arrived, everything was resolved and we could ring the heavy and wonderful sounding set of 8. While we were there, some Stedman triples were rung by the current master and the 7 past masters who attended the tour. The less said about that is probably best, as it wasn't quite as 'masterful' as first hoped. The ringing greatly improved after that, much to the delight of Holy Trinity's tower captain who had remained in the tower with us.

A long break for lunch was then had, with a lot of us spending most of it in the beautiful grounds of Guildford castle having a picnic, and the usual tour shenanigans with a tennis ball began. The less interesting members of SUGCR went off to different cafes around Guildford.
After lunch we went to the penultimate tower, St Marys, which is the oldest building in Guildford. This anti-clockwise 6 was a very new experience for a few of us, and the ringing here was probably the worst of the day, however Margaret arrived and held up ringing for a good 20 minutes, so they didn't have to endure it for long.

Our final tower for the day was none other than the very modern looking Guildford Cathedral. (It was generally agreed that it looked like a very large and more impressive version of Lodge Road!) After climbing the many stairs required to get to the ringing chamber, an amazing set of 12 in an extremely spacious tower were found. The bells sounded beautiful and were incredibly easy to ring, even at the back on the 30cwt tenor. The ringing was very good here, lots of well-struck rounds and call changes, and LOTS of plain hunt, along with some grandsire triples and caters. The general consensus was that these were the best bells of the day, and everyone would be more than happy to return!

Before setting off back to Southampton we had dinner, and where else would a bunch of students go, other than the local Wetherspoons! Cheap and tasty food and drink were consumed to end a brilliant day of ringing in the wonderful town of Guildford. As much as I would like to comment on the minibus trip on the way home, I spent the majority of it asleep after telling the others that I have problems getting to sleep on moving vehicles… (Cue many suggestive photos being taken by Phil and Alice.) The reality was more awful singing from Clare in the front of the bus, much to the despair of Max and Jon, however the singing from them wasn't much better…

A lot of hard work was put into organising the tour, so a huge thank you to Clare for organising the tour, and to Max and Jon for driving the minibus to and from Guildford. I'm sure that we are all looking forward to the next tour, and more S Club 7!
Josh Harris, Vice Master 2016, and Clare Merivale, Master 2016
Southampton University Guild at 60

60 years is a long time. At least that is how it feels when you have existed for only about third of that. So, it was with this great weight of history to honour, that the SUGCR Committee began to organise the annual dinner in The Guild's diamond anniversary year.
Celebrations weren't confined to a single weekend, and back in October last year The Freshers' Tour had been to Bristol, retracing some of the steps made by our founding members some 60 years before. We had the benefit of train travel this time though, and can only imagine the arduous task of biking all the way to Bristol from Southampton and back! How the world has changed over that time!
And so, on Saturday 14th February 2015, past and present members of SUGCR gathered in Southampton for the annual dinner day in this significant year. As is traditional, members began to assemble in the South Western Arms, affectionately known as Nellies, on the Friday night. Beer, cider, conversation and silliness flowed as old friendships were renewed and new ones forged. Not too much beer though - there being peal attempts in the morning.
Eight Spliced Surprise Major was duly scored at St Michael's, skilfully conducted (with only minimal drama in the last lead) by our ever talented president. Unfortunately, Yorkshire at St Mary's came to grief, but not before some decent ringing had been achieved. Over the river at Bitterne Park, six current members assembled to attempt a peal of doubles. Not a particularly noteworthy occurrence you may think - but of these six students, only one had ever rung a peal before! I was perhaps a little uncertain of our chances (I'm sure we all remember our pre first peal nerves), but I needn't have worried. A little over two and three-quarter hours later our peal came round, with very few trips and a welcome absence of any heart-in-mouth moments. The five first pealers should be rightly proud of themselves – an excellent achievement. And five firsts will no doubt be helpful to the 300 'First Peal 2015' challenge this year.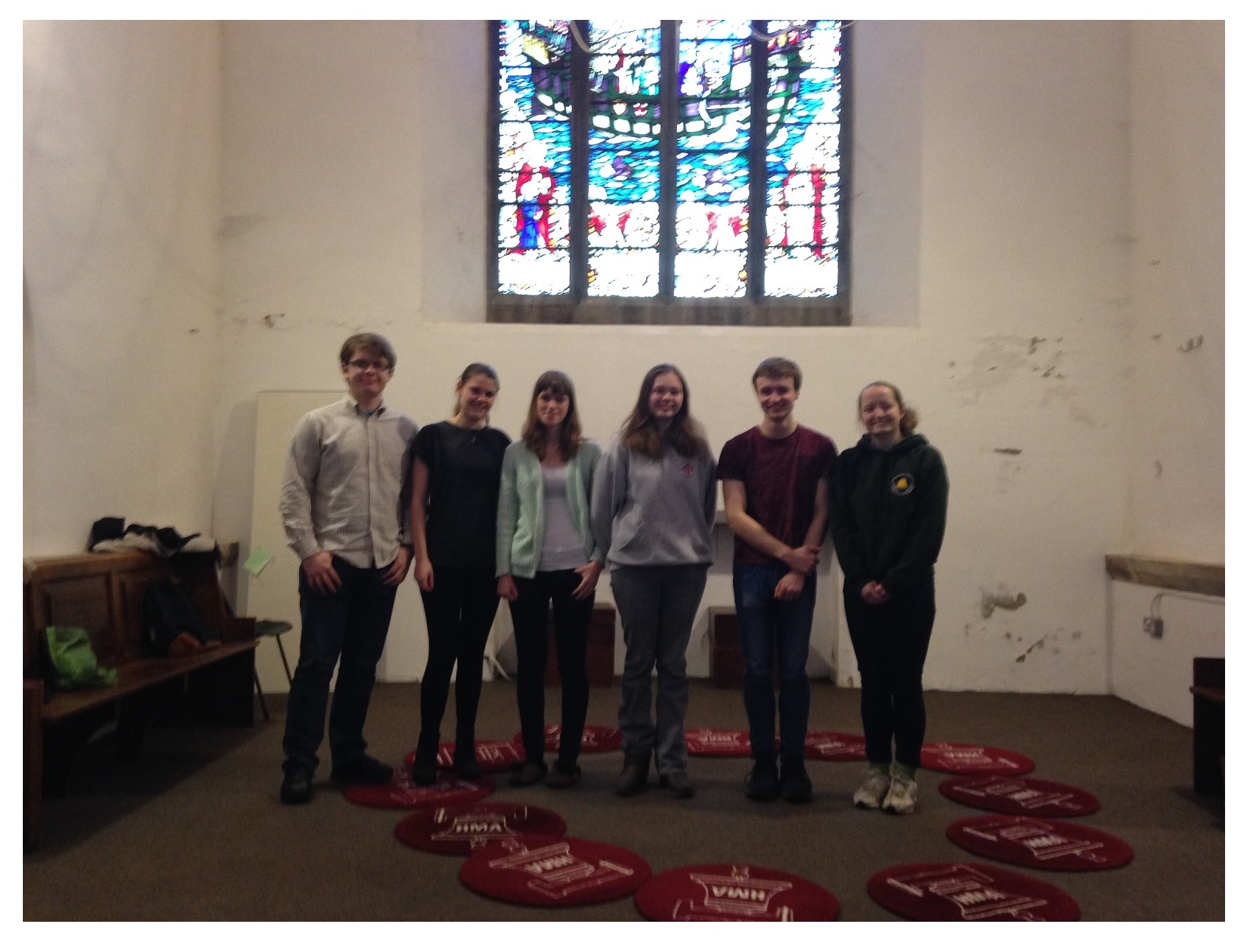 Following a refreshment break, it was time for the Dinner Day Tour. Two towers of special significance to The Guild were the destinations this year. First up was North Stoneham, where The Guild first practiced 60 years ago. It was wonderful to see so many faces, including some founding members, with much rung at this fine light ten. This was followed by the Hartley 12 mini-ring – The Guild's very own mini-ring made in 1999 – which is currently housed in St Mary's Church South Stoneham. The Hartley 12 have been, and continue to be, a great asset to the Guild, being used regularly for practices and quarters throughout the year. The large assembled party enjoyed these, there being some good ringing in addition to the hilarity that one often encounters when some experienced ringers first attempt mini-rings! We concluded with some changes, Margaret Chapman style.
A quick trip home to get ready, and it was on to the main event. As with the past couple of years the dinner was held in the Hilton Hotel, Chandler's Ford. A record 125 people sat down to a three course meal. No doubt the increase was largely down to the significance of the year, and it was wonderful to welcome back some old faces. Hosted for the first time by our new President, Emma Southerington – or 'Em Presidente', if you will – the crowd was quickly in laughter. Lorna Neal (Secretary) welcomed guests and thanked everyone for their help, and was followed by the Church speaker, The Reverend Stephen Holmes of North Stoneham. Alice Gibbin as Vice-Master opened with 'Mother, Father, Distinguished Guests', and is possibly the only speech I have ever heard where the opening line was met with a round of applause! If you haven't already guessed, Alice's parents were in the audience, both being past members and her father a past Master of SUGCR.
Our guest speaker was Christine Hill, who had the audience in giggles with a highly amusing account of a dream, or nightmare, where she had imagined herself giving this very speech confronted by a series of bizarre disasters. And then, The Master's speech – mine! Thankfully this too was fine, despite my nerves. There is something wonderful about getting that first laugh – you know you'll be fine then! In addition, the Felstead cup, named for the first President of the Guild, the famous Canon Felstead, was awarded to one of our Freshers. Max had only rung his first quarter in December and rang in our doubles peal that morning – very well done Max! A testament to what can be achieved ringing with a university society.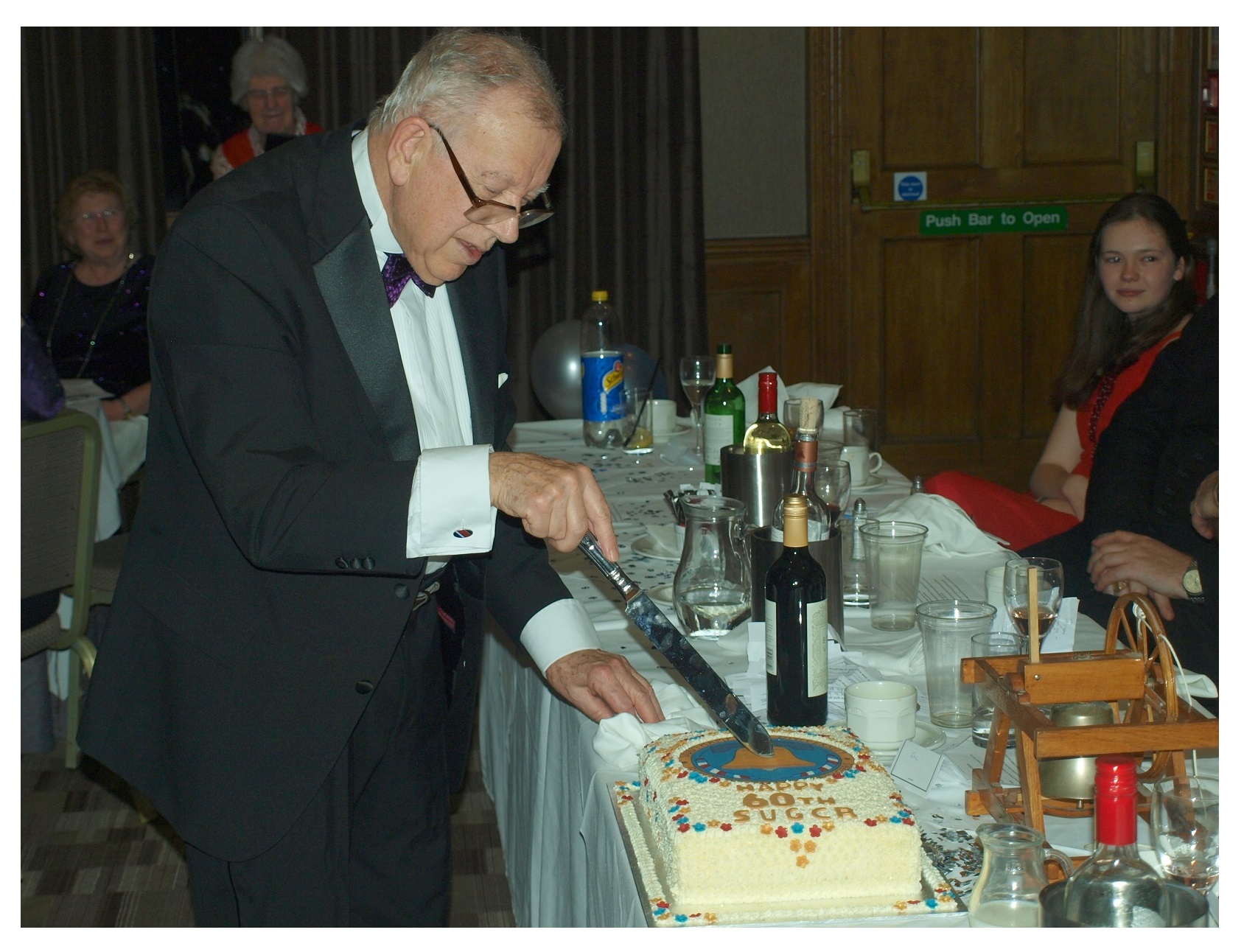 Following the speeches, a large cake sporting the Guild logo was cut by founding member and first Master of the Guild, Derek Jackson. Derek entertained the guests with his wit and some enthusiastic knife waving before doing the honours. We are very grateful to Derek and his wife Ruth and other founding members for coming – all that the Guild has achieved over the last 60 years owes so much to you.
Following the dinner, and in addition to the disco and/or handbells, there was time to admire and chat over our specially made SUGCR timeline. Credit must go to Lorna and her band of helpers, and to all who contributed pictures and anecdotes to build this display of the Guild's remarkable history. The finished result was over 15 metres long! Looking through all the photos and other submissions for the timeline, the smiling faces and scenes all look vaguely familiar. Be it 10 or 50 years ago, the fun and shenanigans are ever present. Although the world has changed quite dramatically in the last 60 years, the fun and friendship SUGCR represents has remained a constant. So many people quite clearly love SUGCR, and though it may mean different things to all of us, we were all there that evening to be with our friends.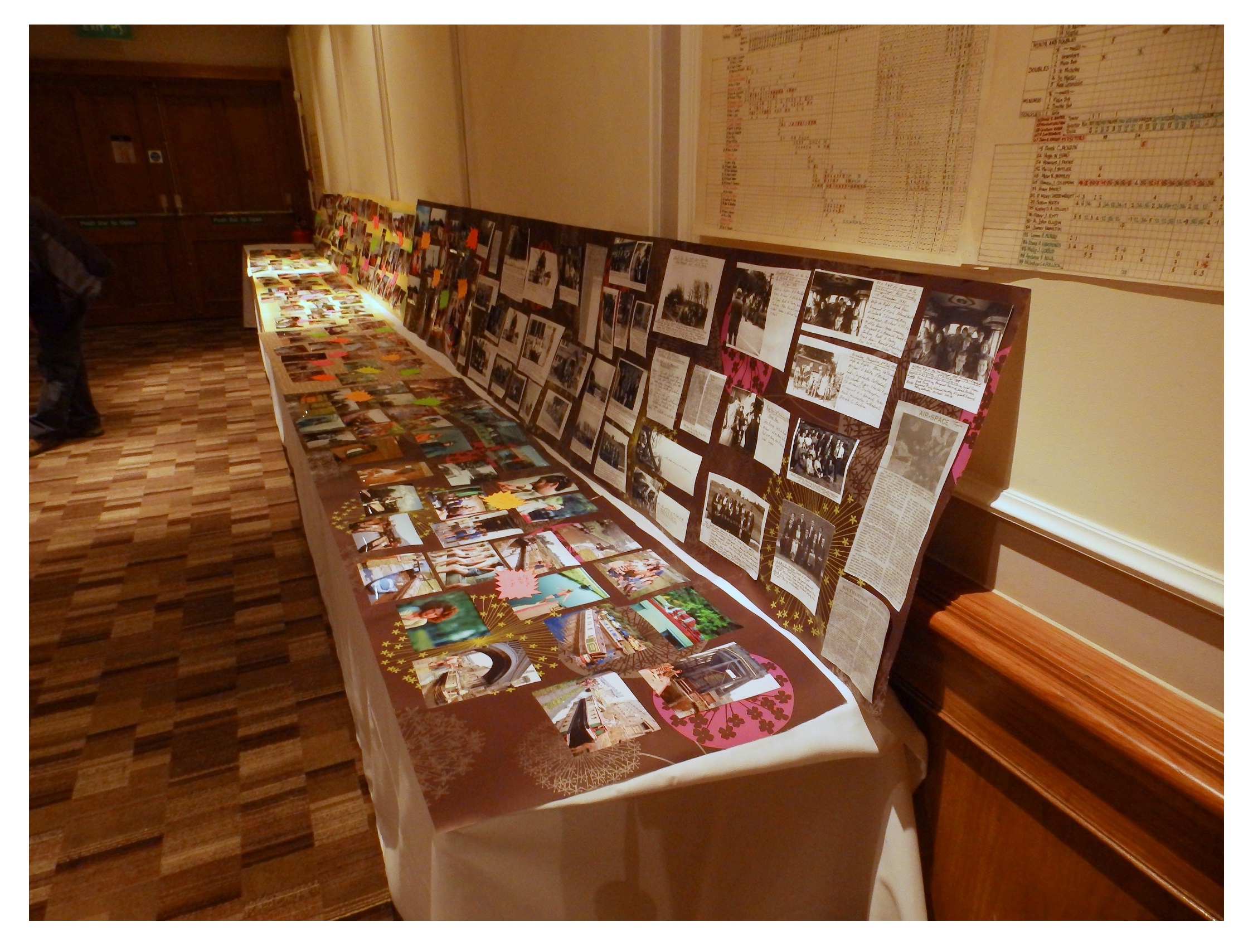 Also on display was a new peal board marking the Guild's 200th peal rung by a band of past and current Masters in March 2014, which is now hung in St Mary's. The contents of the timeline have since been rearranged into a photo album and will be available at future dinners.
All that remains is to say a huge thank you to everyone who made the dinner weekend such a success – our speakers, the hotel, peal bands, the Committee, and of course all our wonderful guests. We look forward to next year's dinner already and hope to welcome lots of faces once again.
And now as we are about to embark on Chapter 61 of the great big book of SUGCR, long may the ringing, fun, and friendship continue!
Philip Moyse, Immediate Past Master
Thanks to Peter Scott for the use of his photos.
Spring Tour 2015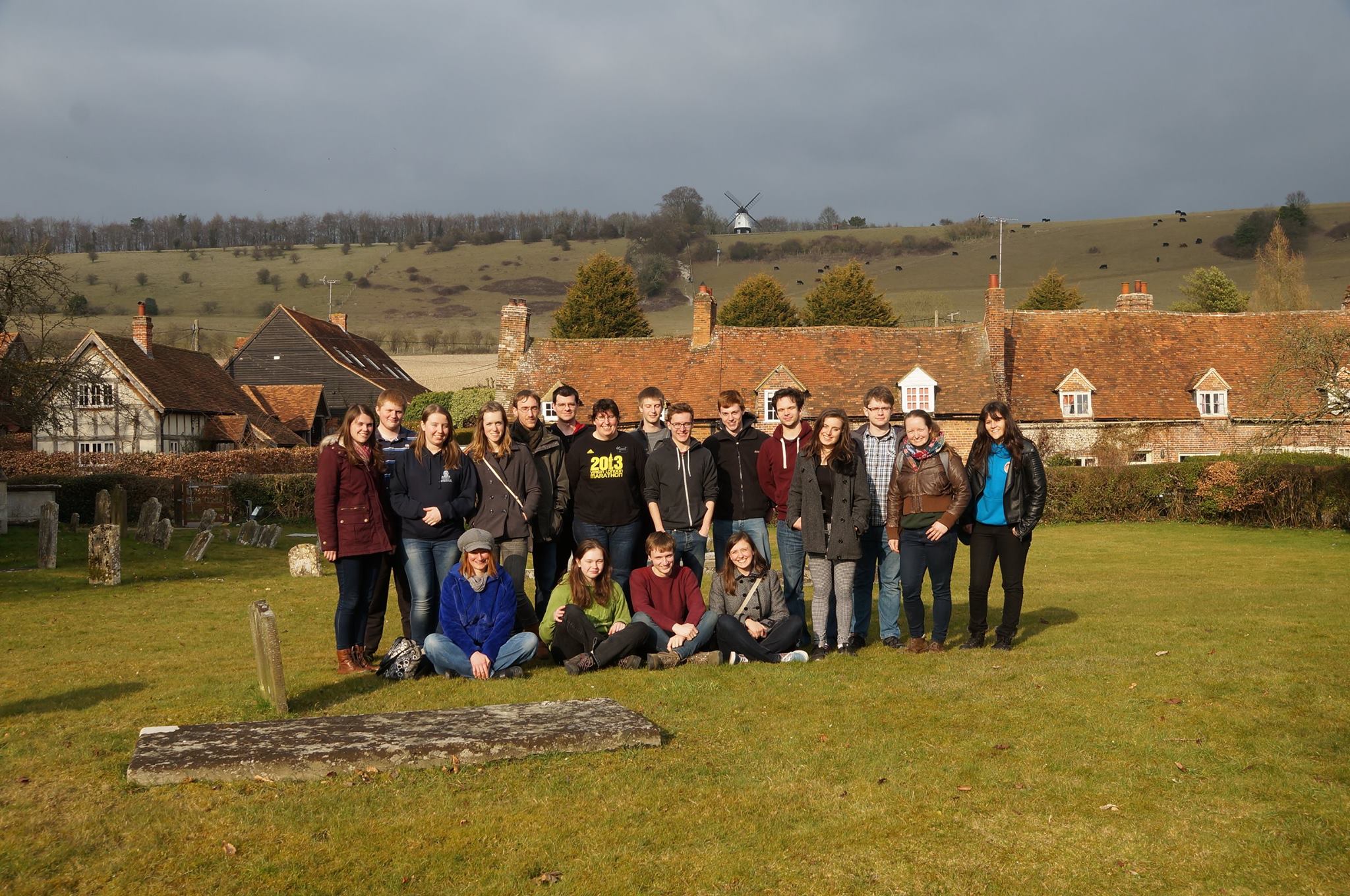 Whenever you walk along a dark tunnel on a sunny day, the brightness and warmth upon coming out is the most welcome feeling in the world. I often have this whenever we go on tour in the spring.
Although Buckinghamshire greeted us with overcast skies and a sharp wind, scarves didn't have to be worn let alone be tied tightly around our chins, and coats that didn't make us look like Michelin Men could be worn without turning blue. It was even light when we all had to be on campus for 8.15am sharp by orders of the new Mistress Alice Gibbin…who was fifteen minutes late anyway. Do as I say not as I do indeed.
This year Daniel Graham and his creative driving skills had graduated so instead we have given the honoured position of Minibus Driver to one of our unlucky freshers and new Treasurer Max Hammick. I say unlucky as we loaded up the battered CD system with Taylor Swift's newest 1989 album. Countless early morning dog walkers were serenaded with her barbed lyrics by over excited oversized 12 year olds. I often forget we're meant to be adults.
Happily, Max drove more like a chauffeur than Miss Swift and didn't crash the minibus into a swimming pool in a grand house. He took us to our first tower in Bucks – All Saints in Great Marlow (Tenor 15-0-3), a challenging 8 in the centre of town beside a beautiful bridge and large Victorian-esque park. The beams on the ceiling caused some consternation for those starting with rounds and call change, but we managed to persevere with Plain Hunt, Grandsire Triples, Cambridge Major and Stedman Triples being rung within our 45 minute slot.
It was only 11 o'clock but we were already on the strange and mysterious tower, greeted by a very enthusiastic and friendly local ringer. This was proudly represented by St Lawrence in West Wycombe, found atop a hill with a cave system on its slopes and surrounded by a large cemetery, many climbable trees and several dogs wearing coats (for some unfathomed, posh Buckinghamshire reason). The bells were a delightful 8 with a 15 cwt Tenor in one of the prettiest chambers I have ever seen "constuct'd 1774" according to a helpful scribble on one of the walls. The church was further notable by having a beautiful copper ball on top with an Islamic moon in the style of a mosque. Buckinghamshire Caliphate confirmed. By reading that sentence, you are now on an MI5 watchlist. Have fun my pretties. Stranger things have happened.
We cracked on with some excellent Bob Triples, more Plain Hunt and call changes. This last was performed much more successfully than in the previous tower with some relief. Certainly the confused and frustrated faces were less frequent!
Following this little misadventure, the minibus bounced its way down the bumpy hill path to our next tower at Holy Trinity, Lane End. This was a more relaxed affair, as it was only a six with a 6 cwt tenor. The more dedicated members of the guild worked through some Cambridge Minor, Call Changes, Plain Hunt, Grandsire Doubles and Stedman Doubles. Meanwhile the more easily bored members went exploring the church yard to play catch from a tree and thwack each other in the face with tennis balls. We certainly know how to have fun.
This is what happens when children are not supervised. Particularly oversized twelve year olds. Fortunately, the Guild President "Em-Presidente" Emma Southerington turned up on her motorbike like a glorious eccentric godmother to supervise us all.
As children often do, we were beginning to moan about being hungry. So we skipped to our next tower in order to eat lunch in Dibley…I mean Turville. Most members were extremely hype for the Vicar's house and shoving past the handfuls of French tourists crowding around the windows. As a note on that day the house is up for rent for £2,200. Only seven miles from civilisation! The bakers of SUGCR have since toiled morning, noon and night for a cake sale big enough to crowd fund the purchase of this property for…reasons….
Other members were more excited by the pub, and the many beers and pies on offer. Still more were excited by the beautiful windmill on top of the hill overlooking the village, famous from Chitty Chitty Bang Bang. More than one of us ran up the hill to be near this sacred monument, but unfortunately were greeted by some over-friendly horses, who took liberty with packed lunches, bags and a few people's scalps. Once we had calmed down the rural members from this moment of sexual tension, we returned to the 5 bell tower of St Mary's (Tenor 7-3-11) to do some innocent ringing.
Plain hunt, call changes and Grandsire Doubles were rung on these little bells. Little was rung as Em-Presidente, the Mistress and Philip "Moist" Moyse wandered off to recreate certain Vicar of Dibley scenes and spamming others' Facebook feeds with their antics.
Four o'clock came along, and so did our final tower, next to another pub much to the relief of our (alcoholic) members. Fortunately the biggest drunk was not present, as it was an excellent tower to end the day. Holy Trinity at Cookham had ten bells with a 14cwt tenor, perfect for a spot of Grandsire Caters and Little Bob Royal. Of course, we had some obligatory rounds and call changes as well as plain hunt and Bob Doubles.
Now, the pub! We piled into the nearby watering hole "The Ferry" where it was a little pricey but excellent, particularly for those gasping for some legal drugs. We enjoyed the early evening sunshine on a deck outside and took a group photo of us relaxin on the chairs.
Following dinner, we all piled onto the minibus to head back to Southampton, tired but content. A few brave souls went to The Crown upon arriving home, but according to photo evidence fell fast asleep over their pints.
All in all, a extremely successful and enjoyable tour. An enormous thank you to the wonderful committee who organised this tour - may the next one be even better!
Elizabeth Coates, Guild Assassin 2014-2015
Summer Tour 2014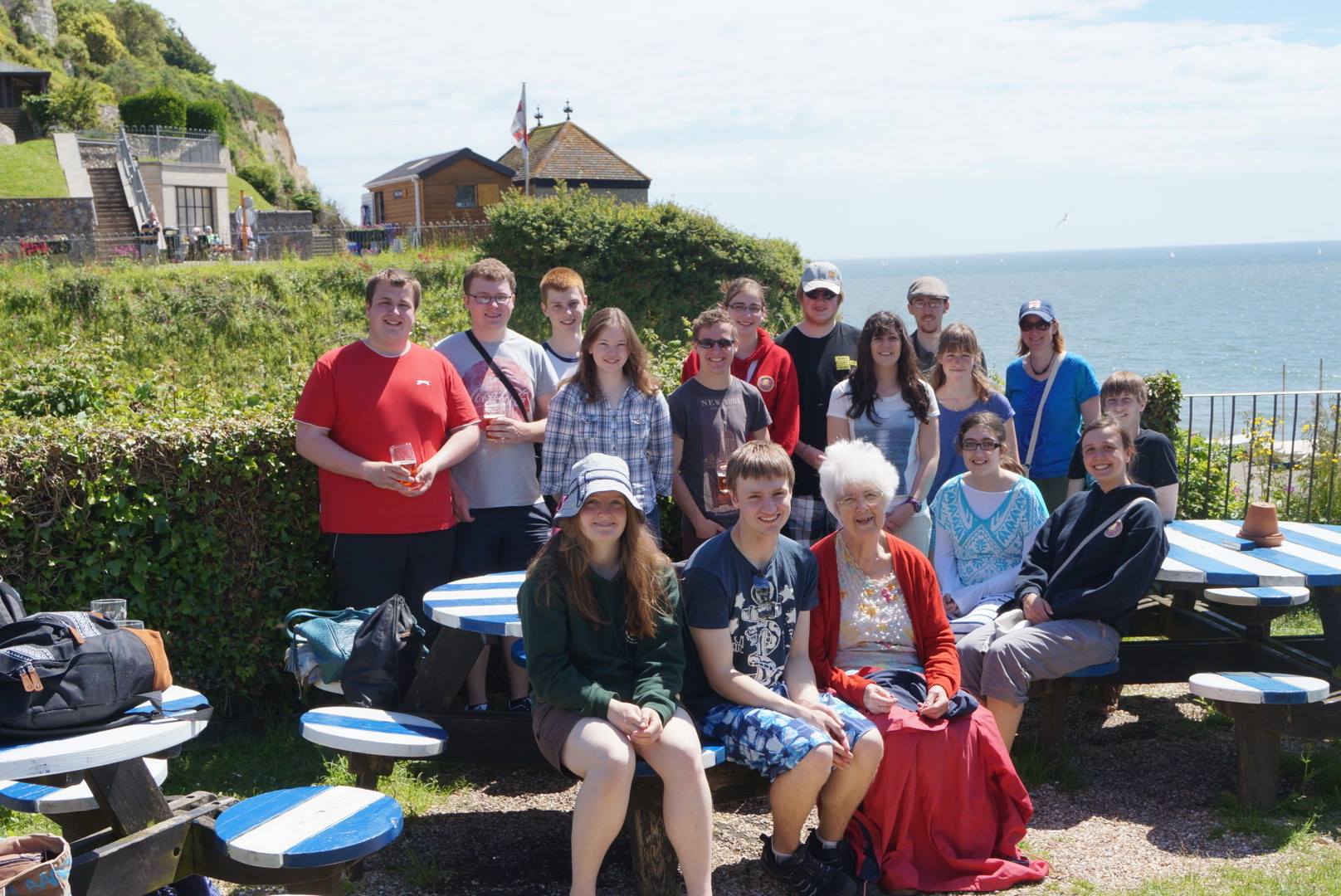 The beach: what better way to spend a summer weekend? Devon is famous for its beaches, and became an excellent choice for the SUGCR Summer Tour 2014.
And so 15 of us assembled one bright Friday lunchtime ready to begin our journey west. Our destination: the seaside town of Seaton. I was pleasantly surprised to have found a campsite offering such good value for money, but the sight of the camping field explained why - sloping, full of sheep and not a single other tent in sight. Hmm. Thankfully a good team effort meant the 16 man tent went up in record time, and once all evidence of sheep habitation was removed it was time for food. Fish and Chips on the beach were in store this evening, along with the first of many paddles for those brave enough… Eventually everyone retired to the pub, and later enjoyed the traditional biscuit club before bed.

Bright and early the following day, despite an early morning thunderstorm, Saturday began with a journey in search of one of the finest eights anywhere – Heavitree. It's always a great treat to sample some amazing bells, and these certainly provided no disappointment. A slight baptism of fire perhaps for our newest recruit, who rang rounds here for the first time ever – very well done Abbey! From here we made our way to St Mark's, Exeter, and 10cwt ten proved quite the contrast to Heavitree, but we put them to good use with plenty of ringing on both six and ten.
Next up was Pinhoe, where we were joined by a founding member of the Guild: Margaret Chapman. The menu was varied here, but included a good half course of Cambridge S Major. Onward to Tiverton where it was high time for some lunch, before heading to Tiverton's smaller ring – the six at St Paul's. Being in Devon we had to try our hand at some Devon Call Changes!
Continuing the theme of very good eights from this morning, next up was those at St Peter's. What fantastic bells! Three leads of Bristol here was a definite tour highlight. The last tower of the day was the ten at Cullompton, and these posed a little more of a challenge to ring well, but a course of Grandsire Caters was featured. With a day of much ringing, a decent dinner was definitely in order. Back to Seaton for some good pub grub and some much needed refreshment, plus a complementary paddle in the sea before bed.
Now, there always seems to be plenty of beer in ringing, but on Sunday morning we did the reverse: ringing in Beer! We were met with a warm welcome here to ring the five prior to morning service. A pleasant little café on the beach for breakfast followed by a stroll along the beach and rocks in the glorious sunshine provided a pleasant distraction until the pub opened. And finally everyone had what they came for - a beer in Beer!
With the weather so good, it would be a crime not to take advantage and have a BBQ on the beach. Armed with 4 disposable barbeques and a vast quantity of sausages we made haste for the beach. Though not before some interesting minibus 'parking' on one damp and very slippery campsite… Eventually, a place on the beach staked out, the fun began. All was well until we got a wonderful surprise courtesy of the British summer - rain! Already committed by this point with lots of rapidly warming meat there was nothing for it – come rain or shine!
Luckily people's spirits weren't nearly as damp as the weather and much amusement and too much food was enjoyed. With all food eaten it was time to retire inside, but not before a few brave souls 'enjoyed' a swim! Whilst drip-drying in the pub, albeit minus one T-shirt (RIP), the sun came out again – typical!
Monday morning dawned and it was time for another day of ringing. After a hearty breakfast and amusement resulting for a locked car, we made it to Ottery St Mary, the first tower of the day. This lovely eight in such an impressive church was followed by the five a Gittisham, which offered a good place to practice our doubles and play catch in the churchyard – though the church roof did gain a Frisbee! A speedy drive to Sidmouth with its great ten finished off the morning with some well struck Plain Bob Major on the back eight, prior to lunch and yet more beach (it really is impossible to have too much beach).
Northleigh with it 9cwt four was up next, and these easy-going bells provided a good opportunity to practice some Minimus, including Bristol. To Shute next, along some extremely tight country lanes, for some of the best ringing of the tour and an opportunity for some fun with bubbles! The last tower of the day was the challenging 25cwt eight at Colyton, were we tried our hands at everything from Call Changes to Stedman and Cambridge. Once more onto the pub, this one being a particular favourite as it had Tribute on draught. A final tour paddle rounded off the day.
Tuesday came round all too quickly meaning the last day was upon us. A skilled team effort meant the tent came down in no time, and soon we were breakfasted and on our way to the first tower. Two towers today: the six at Musbury followed the ten at Axminster, with Norwich Minor and Grandsire Caters being the highpoint at each. From here it was time to leave beautiful Devon behind and head back to Southampton, but not before a quick ice cream stop on the way.
And so concluded another action packed tour. It remains to thank all the towers for their hospitality, and for helping to make the tour such a great success.
Philip Moyse Master 2014-2015
SUGCR host the Charmborough Ring- Wednesday 30

th

April 2014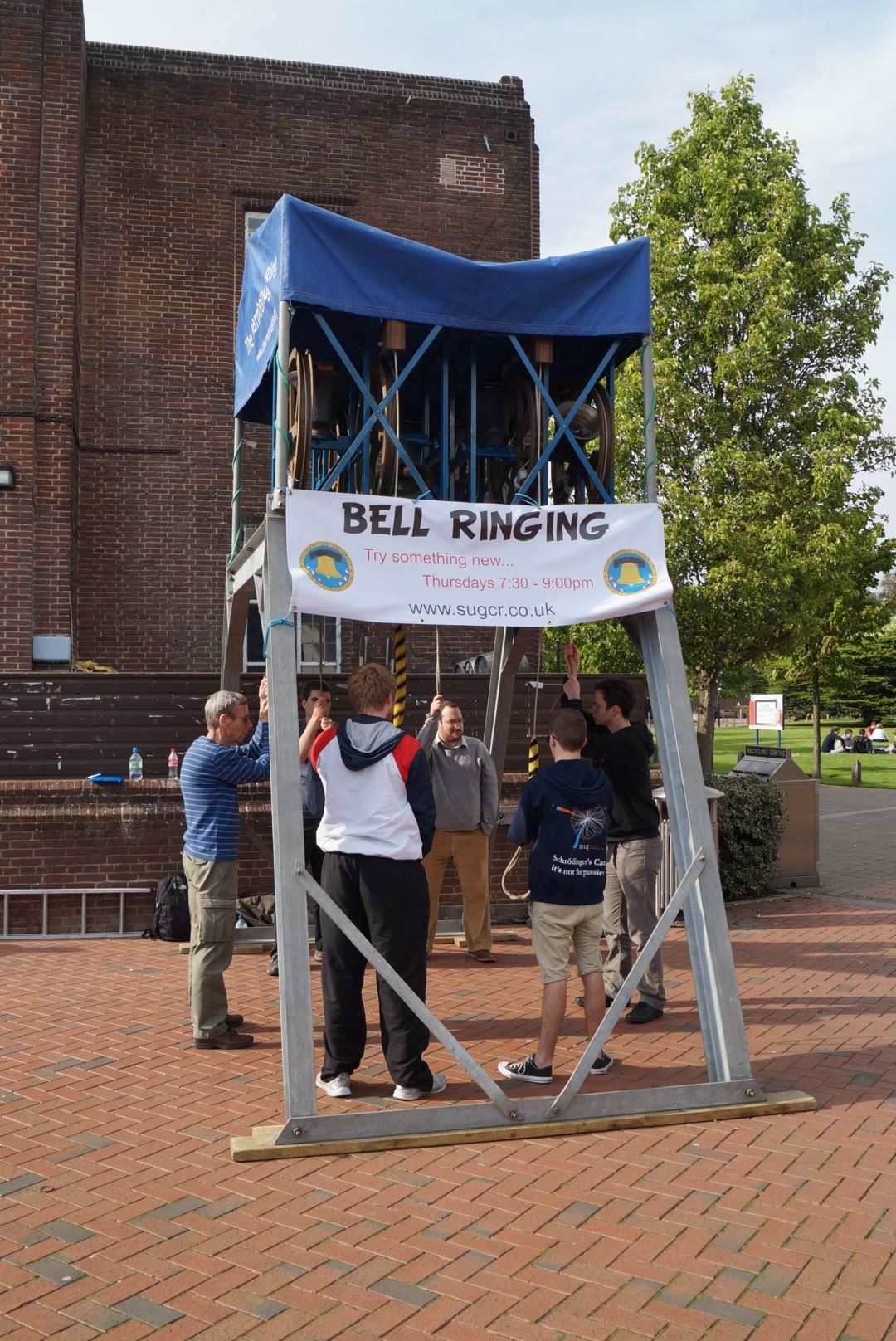 Wednesdays at any university, including the University of Southampton, differ from morning to afternoon. In the morning, there is the terrific rush to lectures with the dead-eyed, early morning stares all students and worker bees know full well. Wednesday afternoons, however, are always free, leaving the opportunity open for leisure, or more work for the studious minded.
SUGCR decided that what our dear university needed was the sound of the Charmborough Mini Ring on the main Highfield Campus on Wednesday 30th April to deafen, delight and demotivate from dissertation hand-ins that week. This was part of the university's Creative Industries Annual Exhibition 2014, although we dispute bell ringing's creativity – if I have to make it up, I'm doing the method wrong.
Several of us turned up, curious to see the bells and how the ring would be set up. The delivery was over an hour late, but we were not deterred; the sun was out and it was warm. Treasurer Kristian Scudamore had "encouraged" us with bacon sandwiches as we lay in the sun waiting for the delivery. At midday, the delivery driver had finally crawled out of the M25 and M3 traffic to reach Southampton, and gave us our orders for the ring's construction.
The ring was meant to take two hours; however it was done in half the time due to having a horde of us crowding the few poles of the ring, thus making up for lost time. Several passers-by watched curiously as we pushed up the frames on either side and hung the SUGCR banner. We suspect we may be internet famous in a small way, although it is likely we are known as the sunburnt eccentrics as opposed to sunburnt eccentrics with bells.
From one o'clock onwards, we alternated between method ringing on these six very small bells (although the tenor was 0-3-10cwt, making it the heaviest travelling mini ring in existence) and teaching curious passers-by how to ring on these small bells. We received a gratifying amount of interest in trying ringing, as the sunshine had brought people out and had made them willing to linger. The Master, Phillip Moyse, as well as Kristian Scudamore, Charlie Martin and Daniel Graham were on their feet much of the afternoon, teaching the potential recruits.
Methods-wise, we were slightly limited by only having six bells; however we managed our mainstays of Plain Hunt, Bob Doubles, Cambridge Minor, Steadman Doubles and (the old favourite) Grandsire Doubles. The methods frequently confused students and staff entering the concourse, however; there is no church on campus, after all.
Towards the evening, we rang the Westminster chimes (with an extremely high pitched Big Ben) to chime in seven o'clock to finish what was an extremely enjoyable day revelling in the novelty of ringing outside in the sunshine. As the sun set, we sadly put away the Charmborough Ring, ready for its long journey back through the traffic to London.
We as SUGCR had a wonderful day ringing the Charmborough Ring, and hope to do more public events of this sort in the future. We thank the Charmborough Ring and its unlucky delivery driver, as well as our recently elected committee.
If you are looking into coming to the University of Southampton, why not make one of the reasons to join our guild in September? We are a friendly, well humoured crowd who welcome anyone and anything to our Thursday evening practises at various towers across Southampton.
Elizabeth Coates, SUGCR current member
Spring tour 2014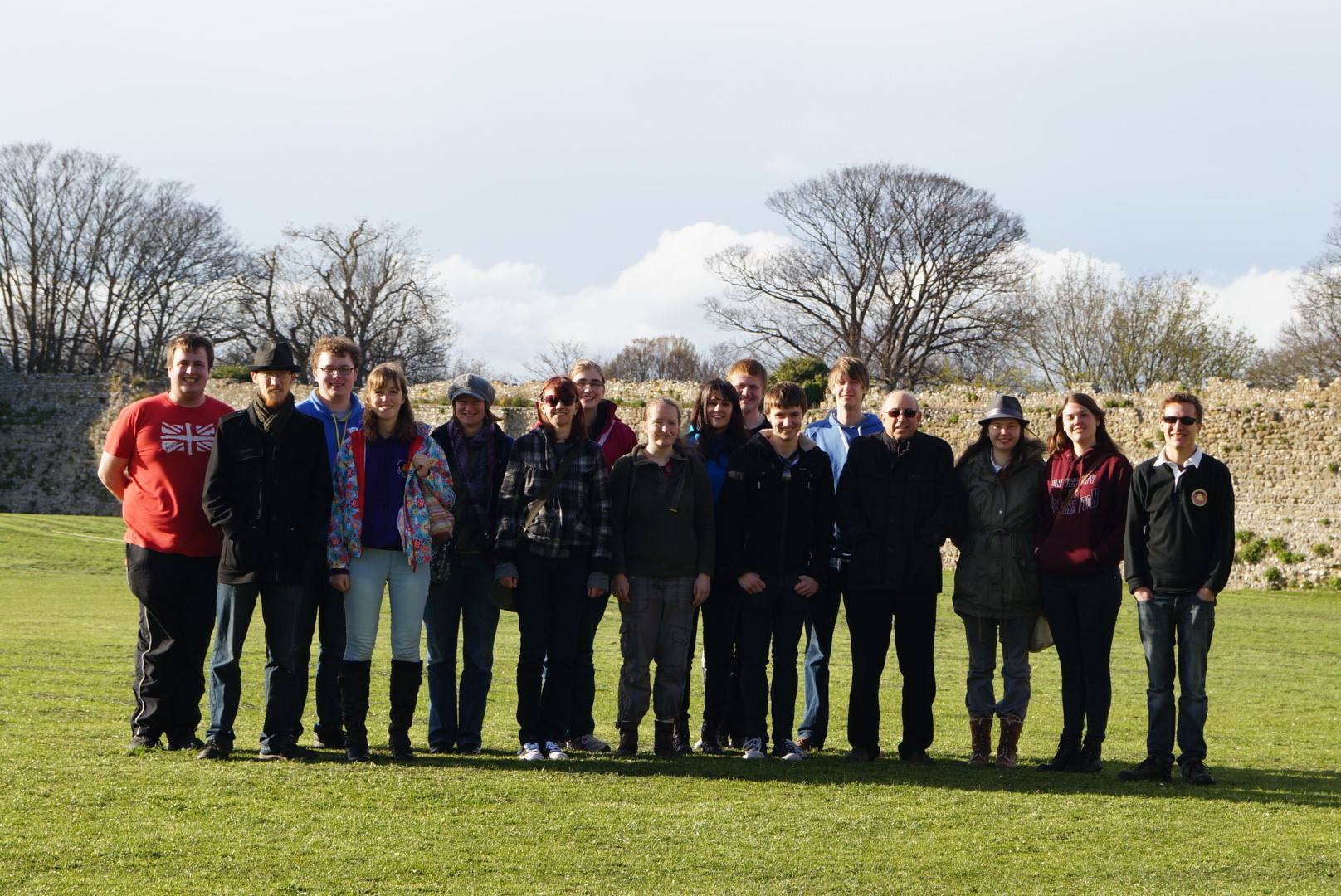 It would seem SUGCR cannot get enough of tours; or at least visiting towers with slightly dodgy bells, play catch and 'enjoy' Daniel Graham's adventurous minibus driving. And since the summer tour will not be until June, it seemed we were all itching for another one once more.
The bleary eyed student morning face was worn by everyone who had turned up at 9am on a bright Saturday 22nd of March, the new Master Phillip Moyse's birthday. Much effort was taken to hide the birthday – oh, OK, no spoilers…
Daniel Graham and Kristian Scudamore, the 'chauffeur' and our current treasurer eventually turned up just after 9am having to fill up the minibus – and immediately burnt up a quarter of it racing to our first tower at Curdridge, an eight bell tower with a 26cwt tenor, the heaviest ring of the day to wake us all up!
The chamber was classically Victorian in style (and smelt of it – reminded me of my home tower) but the bells were pleasant as we started with some rounds then attempted Plain Hunt on seven for the less experienced/wary of the bells. There were also some Grandshire Doubles and Cambridge Minor.
The next tower, Wickham was a lot smaller, with only six bells and an 8.5cwt tenor. It was obvious SUGCR had just woken up, as tennis balls, provided by Benjamin Wigmore, were taken out and thrown around the very beautiful churchyard. Due to there being fourteen of us and only six bells, the majority of the time was spent skulking on the organ balcony backing onto the bell chamber, where certain members immediately noticed the bottles of Pimms. Never fear, they held themselves back, because they knew of the birthday…oh yes, spoilers.
The last tower before lunch was certainly the most 'interesting', being Fareham with ten bells and an 11.5cwt tenor. Despite the ringer from the tower, who greeted, informing us that the six was "flighty" and the seven was "a bit behind the others", and the subsequent hubris leading to bell firing, an excellent course of Steadman Triples included the said ringer was enjoyed by the other half of the party trying to take off each other's heads with tennis balls. SUGCR needed some lunch.
We piled into an Indian restaurant in Fareham, which was surprisingly quiet for Saturday lunchtime. Never mind; all the more food for the hungry bell ringers, of which was happily taken advantage due to the all you can eat buffet. It is fair to say many eyes were bigger than some stomachs, and there were some sleepy faces after lunch before going onto the next tower.
Purbrook, with six bells and a 5cwt tenor, was a lovely light tower to start again on after lunch. Due to it being a six bell, predictably most members mysteriously disappeared. It must be the bells. Yes, the bells. They scare away those spirits. Two courses of Plain Hunt and some call changes along with a course of Cambridge Minor were rung on these pleasant bells.
Then along came the crazy tower.
The sheet of paper informing us ordinary members where the next tower was simply said "Portchester". Instead of a church, however, we pulled up outside Portchester Castle, which at quarter to four in the afternoon still had people in Tudor period costume wandering around amusing tourists. But we weren't here for a Year Nine history trip; we were here to find these mysterious three bells, its tenor being only 11cwt.
We were led to a beautiful Florentine style church in the Castle's central yard, where we had to scuttle past tourists enjoying a lovely day out, about to be ruined by the cacophony of the bells…when SUGCR had scaled the beam necessary to reach the bell tower. Agoraphobia had to be left at the ground if the ringers wanted any chance of reaching the tower in this case.
When the tower captain pulled out some ear defenders in a chamber with breeze blocks and a low roof, we knew this would be the strangest tower yet. The tower shook every time the very short drafted bells were rung, and, clearly deemed the most sensitive, I was given the ear defenders. Much better! The taller members of the society had less trouble ringing the bells, managing to coax them into a partially formed Plain Hunt, whilst it took a few seconds for the treble to go in a few smaller cases.
After scaling our way down the tower, the members wandered off to the pebble beach just outside the castle on the East Wall and skimmed stones, enjoying the last of the early spring sunshine after taking some sun exposed sunshine. The Wanderer (Charlotte Stansbury) kept true to her nickname as she disappeared with a few other members (including Lorna Neal, Alice Gibbin and I) touring the castle walls. It shall always be a secret why we disappeared in the fashion we did, but we did come back, as to not miss the birthday…surprise!
We pulled in at a pretty picnic site outside Portchester and cracked out some champagne brought by Charlie Martin and cake baked by Lorna for the birthday boy, who showed his maturing as he opened his first champagne bottle, succeeding in hitting a nearby parked car with cork (+100 points, 200 if moving!). The alcohol kept the company 'toasty' as we drank for Phillip seeing in his 20th birthday with lots of ringing and plans for merriment that evening at Nellies.
Needless to say, we enjoyed ourselves immensely, with pizza, beer and a pink birthday girl sash. And of course, we enjoyed the ringing.
I would like to thank the committee for 2013-2014 for the excellent tour, as well as by extension the towers for letting us use and abuse their bells for our enjoyment. Here's for the committee 2014-2015's tours to be just as excellent (champagne would be helpful…)
And here's a picture of SUGCR (academic year 2013-2014) at Portchester Castle to delight you all.
Elizabeth Coates, SUGCR current member
Summer Tour 2013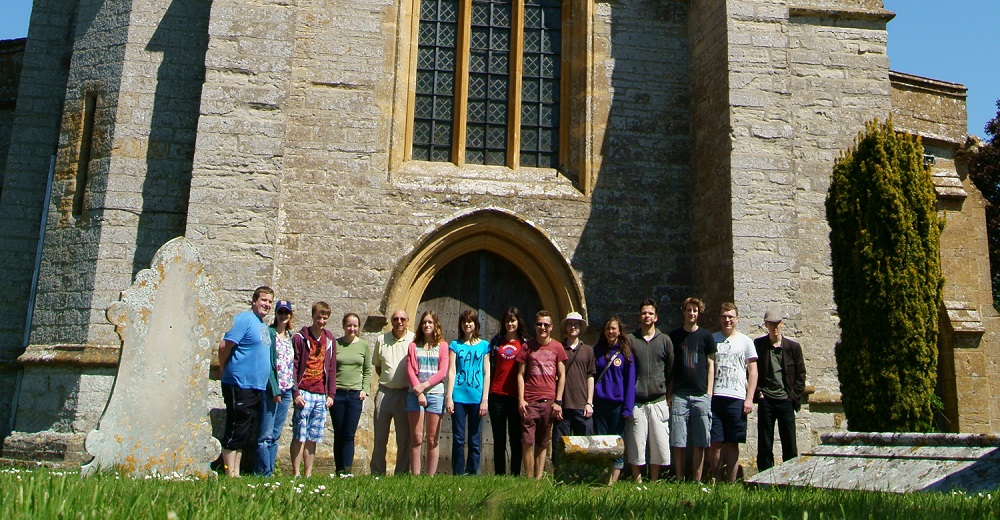 After the success of the 2012 SUGCR tour to Cambridge, another year had passed and another tour was due... After another successful year, SUGCR decided that they wanted to head to deepest darkest Somerset, to experience some of Somerset's finest and heaviest bells.
The tour began early Friday morning, thunder and lightning looming overhead, a worrying prospect for the 12 SUGCR members crammed into a minibus heading for 3 nights of camping. After a wet journey to Westbury, in a minibus with a window reassuringly held together with only gaffa tape, we headed straight to the pub for a heavily burger based lunch. After lunch and with the rain easing we headed to our first tower of the tour, Westbury. This splendid ring of bells, which set the bar for the rest of the tour, provided great amusement when one of our smallest members couldn't quite pull his weight and struggled to pull the tenor off in rounds. Next up was Marston Bigot, where we were joined by one of the guilds founding members Margaret Chapman, who after a quick hello swiftly disappeared to put the kettle on, ready for when we would arrive at our final tower of the day, and one of the smallest rings of the tour, Pig-Le-Tower. Being only a little heavier than the guilds own mini-ring (The Hartley 12), Pig-le-Tower proved a gentle end to ringing on the first day of the tour before we headed to Glastonbury to set up camp. The campsite, positioned under what appeared to be the only bit of clear sky in the whole of the UK, meant we needed to put the tents up fast.
Being a responsible and mature group, we would obviously attack this in the most efficient and sensible way.... Or not... What ensued was a frantic race between the boys and the girls, with the boys winning hands down. There was the slight issue of the wonky tent, guide ropes tied wrong and a few sides not pegged down, but the boys took the victory and headed to a nearby pub. Ale and local cider as expected was well received, although some could argue one member appreciated the beer a little too much, leading to a nasty surprise discovered in the tent the next morning. Slightly worse for wear and with sore heads, we got going for the second day of the tour.
Saturdays towers combined had an average weight of 22cwt, setting us up for a challenging day. Starting at Ditcheat, this fine ring of bells was enjoyed by all, with the highlight being a fantastic course of Cambridge Major to get the day off to a good start. Bruton and Evercreech followed, both pleasant rings of bells, before a filling pub lunch refuelled us for the afternoon. Arriving at the first tower of the afternoon, Queen Camel, our heaviest ring of the tour, with plenty of time to spare, provided the perfect opportunity for some of the group to have a well-earned nap, before the obligatory tour group photo. Keeping things simple provided the best ringing with one of the highlights of the whole tour being the slow controlled well struck lower. Next up was Marston Magna, which posed a slightly unusual problem. When we arrived, we found the house next to the church was having a garden party selling amongst other things Ice cream. Being a nice sunny day, most members snuck off to sample this ice cream, leaving only a few people in the tower. Ice creams eaten, and trees climbed, some nice ringing was achieved before moving on. Wincanton was the final tower of the day, where an excellent course of Pudsey Surprise Major rounded off another successful day. After Dinner we headed back to the campsite where maximum amusement was sought from the combination of a tennis ball and the luggage cage on top of the minibus. Following a more subdued trip to the pub it was time for the annual summer tour tradition...Midnight Biscuit club. Located in the minibus we were able to enjoy this tradition whilst keeping warm and not disturbing the whole campsite. It also proved the perfect venue for a re-naming ceremony for one of our fresher's, who after the biscuit was eaten was re-named forever more.
Sunday morning started early, with many having been woken early by a neighbouring cockerel, which seemed oblivious to the actual time. The first tower of the day was Chilcompton, where we were able to ring all 12 bells for the morning service. Next up was the light 6 of Ston Easton, a ring of bells much more akin to what SUGCR are used too. Our third ring of the day was a much lighter 12, Andy Mead's mini ring at Knapps farm. After bumping the minibus into an old milk can, most members were more interested in the local ducks then the bells, but we did manage some pleasant ringing on these small bells.
After a roast dinner at the local pub with vast quantities of veg we moved back to some heavier bells visiting Shepton Mallet and Doulting. The final tower of the day or rather garage was the Great Orchard Campanile. This interesting ring of bells put an end to another day of good ringing. Back at the campsite, the trusty tennis ball provided another evenings entertainment, with the minibus being given a night off. A makeshift game of Rounders, using tree branches for bats and with the pitch being littered with various obstacles (the tents and minibus) we played long past sunset until we could no longer see the ball.
Monday, the final day of the tour featured our only tower with no bells. We couldn't come all the way to Glastonbury without climbing the tor. After packing up camp we headed up the tor, having a picnic lunch before the tennis ball came out once more for a slightly more risky game of catch. Descending back to the minibus, we had one more stop before we headed home, one final visit to Pig-le-Tower. After more tea and biscuits an impromptu quarter peal of Grandsire Triples was scored to mark the end of what had been a fantastic tour.
We'd like to thank all the towers for their hospitality, as without these this tour wouldn't have been such a success.
Kristian Scudamore, Master 2013-2014
Summer Tour 2012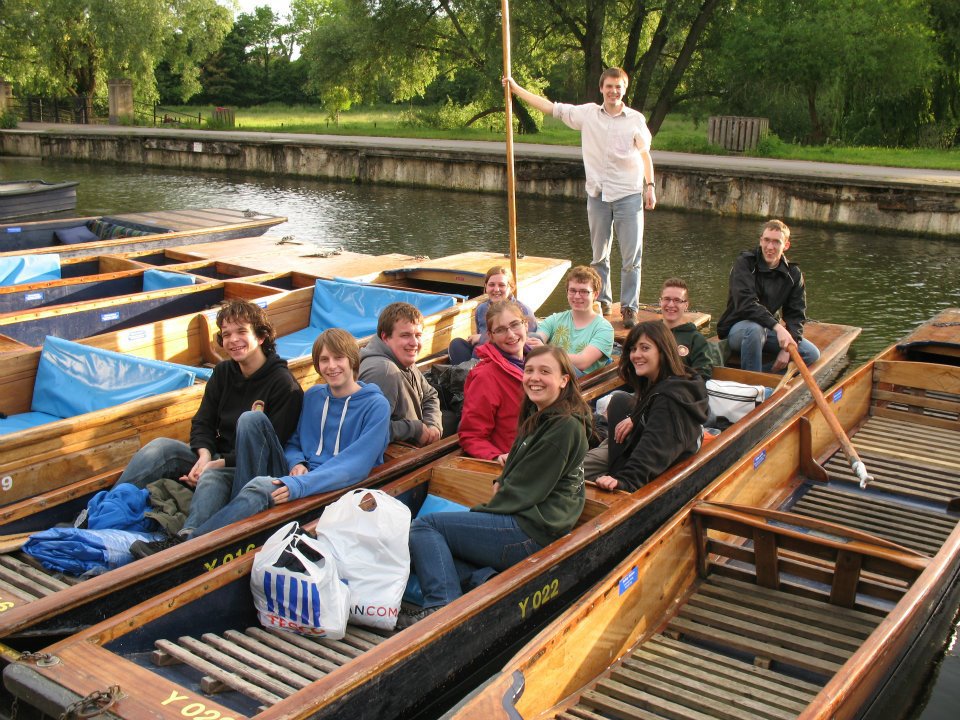 Following a fantastic time at the 2011 SUA held in Cambridge, it became the Southampton University Guild of Change Ringers' destination of choice for the Summer Tour 2012.
After leaving Southampton early in the evening on Thursday 14th June, we arrived at our campsite with just enough light left to be able to put up the huge tent all eleven of us would be sharing for the weekend. This required much team work, but the need to get to a pub before last orders was enough motivation for most people to lend a hand! We eventually made it to a pub, with enough time for a pint, or two for the more focused drinkers among us
We woke up on Friday morning pleased to find that our tent had survived the stormy weather overnight, and, with 5 towers scheduled for the day, headed straight to a local Tesco café for breakfast, because every little helps! Following a morning of successful ringing at both St Vigor, Fulbourn, and St Edward King and Martyr, we headed to The Red Lion in Histon for some well-earned lunch. Now feeling fully awake, a fantastic course of Cambridge Surprise Major was rung at the first tower of the afternoon (St Andrews, Histon).
We then headed to All Saints, Longstanton, where we experienced our first lock-out of the weekend, but a quick phone call to a helpful Churchwarden swiftly led us to the key. The final tower of the day was a lovely ring of four, (All Saints, Landbeach). We were pleasantly surprised to be greeted with tea, coffee, juice and a large selection of biscuits! Feeling suitably refreshed, we attempted some unusual minimus methods, including Cheeky Little Place, and spliced Rhubarb and Custard. However, some well-struck Bristol would have to be the highlight of our minimus adventure.
Relaxing after a full day of ringing would be far too sensible for SUGCR! Instead we hired two punts overnight and attempted to punt all the way to Grantchester and back, before the punts had to be returned at 7am. So, we set-off with each punt plentifully-filled with as many snacks and supplies as possible, and off we went. Along the way, we discovered that our Vice-Master proves irresistible to Cambridge's swan population, and ducks just cannot keep their eyes off certain members of the band. We punted merrily up the river until the early hours when we decided it might be a good idea to get some rest before having to punt all the way back again. Cheese on charred bread was a midnight snack enjoyed by some around a small riverside fire, before retiring to bed, which came in the form of a large tarpaulin spread across all eleven hardy souls sheltering on the river bank.
Saturday dawned damp and cold. With a long journey down the river ahead of us, we wasted no time in getting back on the water. A phrase that almost rang true for one member of the band who was momentarily left clinging onto a tree branch following a minor steering misjudgement! Followed closely by an attentive family of ducks we made it back in time for breakfast and a large amount of coffee before the first tower of the day (St Peter, Barton), where we weren't quite sure whether it was the tower swaying or us
Caffeine kicking-in, ringing went well on the lovely bells of St Mary and St Michael, Trumpington, the second tower of the morning. Lunch wasn't without its surprises as we turned up at "The Coach and Horses" expecting a traditional British pub, only to find it was an Asian fusion restaurant!
The first tower of the afternoon, a 5cwt six, (St Andrew, Oakington), warmed us up nicely in preparation for the second tower of the afternoon, (St Andrew, Chesterton), a 16cwt six, where it only seemed fitting to focus on ringing some well-struck Stedman Doubles, as the first peal in the method was rung at this very tower. It was clear the lack of sleep from the night before had got to some, with our Master exclaiming, "That bell looks like its got towers in it!", whilst driving along a country lane. An early night was evidently needed in preparation for joining the Sunday service band at Great St Mary' the following morning. Once we had all enjoyed a ring ourselves, we went up onto the roof of the tower to see Cambridge from a different angle, and appreciate the local band's excellent ringing. After a Wetherspoon's breakfast and somehow managing to get the huge tent back in the bag, SUGCR were homeward-bound, bringing another excellent tour to a close.
We would like to thank all the tower secretaries and tower contacts who made such a fantastic tour possible. We thoroughly enjoyed ourselves.
Charlotte Stansbury, Social Secretary 2011-2012